History
The first Me-109's to arrive in Spain were the V-3. V-4 and V-5 prototypes which were sent to the Legion Kondor in 1936. In 1937 these were followed by a number of B machines and in 1938 by C and D models. The Me-109E arrived in Spain just too late to see action in 1939. Most of these early 109's were RLM 63 light gray overall with RLM 65 undersides. They were marked with the black disk on the fuselage and wings and a white rudder with a black cross. Sometimes the squadron symbol was painted in the fuselage disk. Occasionally a white cross was painted on the black disk.
In 1942 the red/yellow/red roundels were brought back on the fuselage and wings but the white rudder with the black cross was retained.
Also in 1942 Spain tried to upgrade its Air Force by acquiring more modern fighters. First Spain received 14 Me-109F fighters. Later they negotiated a license to build the Me-109G-2. Under this agreement 25 complete G-2 airframes were delivered followed by 200 engines. The Spanish produced version of the 109 was to be designated Me-109J.
The engines never materialized however and the Spanish started experimenting with different engines. First they fitted Hispano Suiza 12Z engines. These proved to be too weak and in 1949 the Rolls Royce Merlin was fitted.
The Merlin powered Me-109's soldiered on until 1965. During this last year the Me-109's flew alongside the F-104 Starfighters of the Spanish Air Force!

Messerschmitt Me-109D (Source: Wings of Fame 4)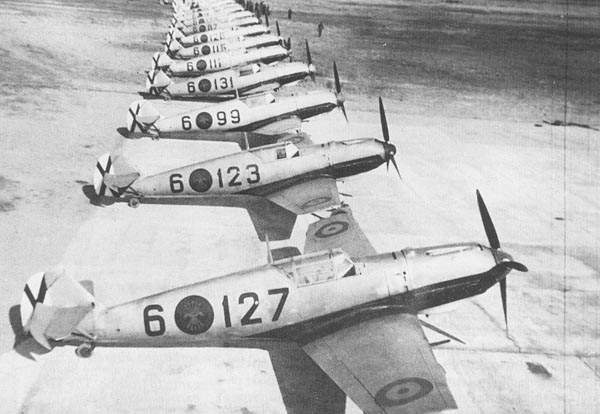 Messerschmitt Me-109E-3 (Source: Wings of Fame 4)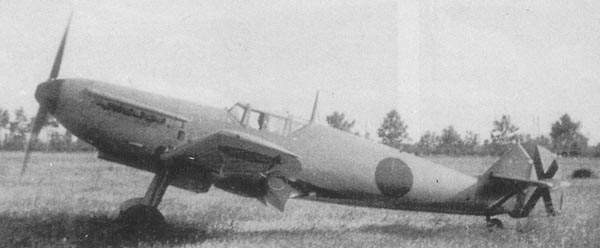 Messerschmitt Me-109E-1 with Hispano Suiza 12Z engine (Source: Wings of Fame 11)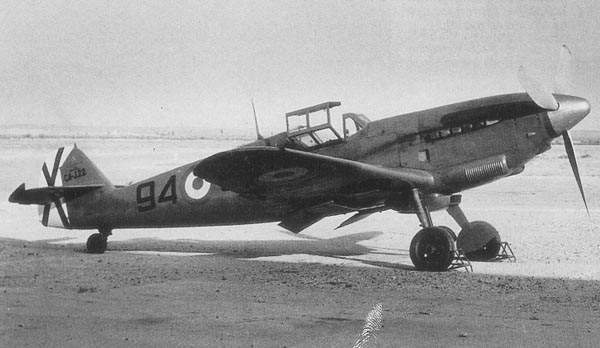 Hispano HA-1109-K1L (Source: Wings of Fame 11)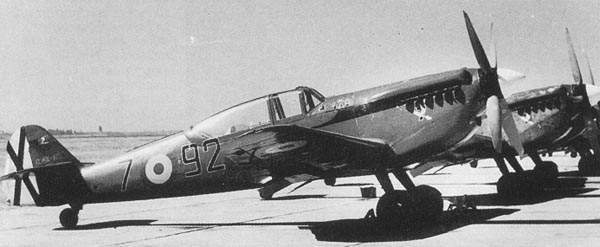 Hispano HA-1112-M4L (Source: Wings of Fame 11)

Messerschmitt Me-109B (Source: Wings of Fame 4)

Messerschmitt Me-109E-3 (Source: Wings of Fame 4)

Messerschmitt Me-109E-1 (Source: Wings of Fame 4)

Messerschmitt Me-109E-3 (Source: Wings of Fame 4)

Messerschmitt Me-109B (Source: Avions Messerschmitt Espagnols)

Messerschmitt Me-109F (Source: AJ Press Monografie 50: Messerschmitt Me-109 Cz. 6)

Messerschmitt Me-109F-4 (Source: AJ Press Monografie 50: Messerschmitt Me-109 Cz. 6)

Hispano HA-1109-J1L (Source: Wings of Fame 11)

Hispano HA-1112-M1L (Source: Wings of Fame 11)

Hispano HA-1112-M1L (Source: Wings of Fame 11)